The kitchen is the most expensive space in the house. The kitchen cabinets are likely the most costly item in the kitchen. There are several recent design trends affecting kitchen cabinets. "Softclose" cabinet hardware is so popular that some kitchen cabinet manufacturers no longer offer the older alternative.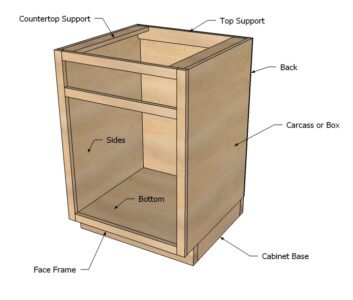 Transitional aesthetics are becoming more popular than traditional aesthetics. Transitional aesthetics blend both traditional and modern design features. Traditional style cabinet doors feature more ornamentation while modern doors feature no ornamentation. Transitional style doors feature minimal ornamentation.
There are three common cabinet frame styles that loosely align with the three styles above: (1) wide frame (traditional); (2) narrow frame (transitional); (3) frameless (european/modern).
Open shelving is increasingly popular as an alternative to upper wall cabinets with opaque doors. Open shelving emphasizes horizontal lines and the more transitional aesthetic. Open shelving may be used as a highlight in one location, in combination with wall cabinets elsewhere.
Painted cabinets, instead of stained wood, are increasingly popular
The layout of your kitchen will have a big impact on your cabinets. Both L-shape and U-shape cabinet layouts provide efficient work triangles, however, both feature inside corners. Inside cabinet corners waste space and may be difficult to access. The lazy susan turntable (rotating tray) can be installed in a corner cabinet to utilize as much of the wasted space as possible while providing easy access.
If you are forced into a narrower cabinet, which commonly occurs in bathrooms, wide frame cabinets can be a nuisance. Towels are more difficult to fit between the wide frame of a traditional cabinet.
Base Cabinets
There are three basic options for base cabinet operation: (1) doors (least expensive); (2) drawers; (3) doors with rollout shelves. Since drawers and rollout shelves are more expensive, doors are still very common. However, drawers and rollout shelves offer easier access to items stored in the base cabinet.
One popular drawer has almost become a "must-have" feature in kitchens: the drawer featuring 2 waste containers: one for garbage and one for recycling. This drawer is typically 18" wide and is located near the sink for ease of discarding unused food.
A pullout spice rack can be incorporated into base or wall cabinets. Alternatively, spice racks can be placed in an ordinary wall cabinet.
Consider a pullout cutting board.
Wall Cabinets
There are several ways to treat the space above the wall cabinets:
Extend wall cabinets directly to ceiling
Leave space between top of cabinet and ceiling
Drywall soffit between top of cabinet and ceiling
If you have tall ceilings, you can vary the height of the wall cabinets, making them more visually interesting.
Crown molding at the top of the wall cabinet adds a nice touch.
A simple molding below the wall cabinet will conceal under cabinet lighting if employed.
17"-18" is ideal height between top of countertop and bottom of wall cabinet.